Dyeing sock yarn: Take #2
I spent the day working on the aforementioned baby sweater and hat (now with booties!) and finally the acrylic became more than I could handle.

Therefore, I spent an incredible amount of money buying yarn online to compensate. Elann has my number...my MasterCard number, that is. And I happened to be one of the few, the privileged, the first, even, to be a test orderer online with KnitHappens, which will be up and open extremely soon! (It went flawlessly, for those who need to know. And once the yarn arrives, I will be so completely assured of its perfection that I may need to order more. And more! Mwwwwwwahahahah!)

In case that wasn't enough, I grabbed the other skein of KnitPicks yarn and dyed it...I think this one came out a little better. It's laid out here on the washer (the only place in the house I can use a flash without waking someone...) in all its damp glory. The colors, while digitally rectified, are almost spot on. I have offered this to Heather of the exotic yarn buying habits (go see...it's true!) to whom I have also given the right to decline gracefully and without hurting my feelings (but this will make some killer socks, I'm bettin'!) We'll see who makes the socks. Please stand by.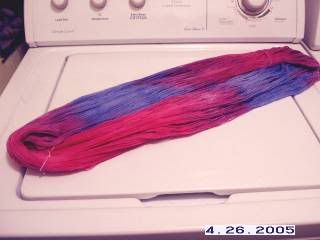 And now, although I actually asked, nay, volunteered to be interviewed, then had the audacity to dilly-dally around about it, I have finally ceased my procrastination and will thus answer the questions posed to me by Nancy (and as she says, y'all know the rules) (but here they are because one of the rules is that you hafta post the rules):

Here are the rules:
Leave a comment saying "Interview Me". I will do the first two people anyone who asks.

I will list your questions on THIS blog.
You will give answers on YOUR blog.
You will include this explanation and offer to interview someone else in the same post.
You should ask 5 questions.
1. When did you first learn to knit, and who taught you?
Once upon a time, long, long ago, in a land, far, far away...no wait, that's Cinderella...umm...left-handed, impatient mom, no talent for knitting. I picked it up by myself in November 2003 when I saw someone wearing a pair of socks made out of self-striping yarn and found out that I couldn't buy the socks, but I

could

buy the yarn and make them. And it's been expensive ever since. And they lived happily everafter.
2. How many kids do you have and how old are they?
Kids?

Kids? I have kids?!?

(just kidding!) Katy's almost 19 and getting married in July to the man of her dreams (see previous post wherein she's wearing a glorious,

tres cher

white gown which she deserves to because she has waited. Actually. Really. Thank God.) Nick is 16 and an Eagle Scout (ditto previous posts.) They've always been homeschooled. They're wonderful. I could not have been more blessed.
3.

I know you are a Born Again Christian, do you find knitting to be a spiritual practice for you?

Ummm, I'm not sure how to answer this one. I mean, there are times I'm knitting for someone and I find myself praying for that person. Sometimes I sit and listen to Scripture on cd while I knit. And sometimes it's so relaxing that it just takes me to that pink place in my head...
4. If you could take a vacation anywhere, where would it be? By yourself, with the kids, a girlfriend or just your husband?

This is harder than the last one! Well, I live in the woods, in an area where people come to vacation, so I think that the thing I'd most like to do is take a 50 state LYS crawl with anyone who had enough stamina and/or money. Okay...that was the fantasy answer. In reality, I think I'd like to take my family to Manhattan. I used to work in the garment district. I love New York City. It is the antithesis of my current existence yet it's still in my blood. And there are some rockin' yarn shops there too...
5. What made you decide to branch out into dying your yarn? Do you spin?
Curiousity. Plain and simple. Fascination with handpainted, hand-dyed yarns has led me to experiment. See all over the blog...I'm plain eat up with dyeing yarn.

I

do

spin...in circles. Honest.

Once the kids are gone and there is a room for my burgeoning yarn habit to move to, there will be a spinning wheel and lessons. Curiously, my DO has a small farm on which he has beefalo, and this summer he is driving clear to Minnesota for a yak. We have already discussed the question of yak fiber and its potential profitability (but I get my cut off the top...pun intended.) I think he should leave doctoring and farm llamas and alpacas. I could be his fiber agent...

Thanks once again for stopping by and putting up with my ramblings. If you have any intention of having me interview you, speak now or forever hold your peace. I can come up with some deep, searching questions...or not. We'll see.

Ta!