It's a beeyooteefull day in the neighborhood...
...and I was awakened at the crack of dawn by...no, not shafts of light beaming through the slats in the window shade...no, not the delightful chirping of birdies returning to this part of the world...no, not even by the barking of my fearless and intrepid watchdog Maggie (see previous posts for evidence of her watchful guarddog-like abilities.)

Instead, I was awakened by the sound of many huge dumptrucks passing through this quiet part of the woods. WTH? (That's "what the heck" for those of us who try not to use profanity. This is a G-rated blog...) More downstaters building huge "cottages" here in the woods. No clue that some of us actually like the bucolic nature of underdeveloped areas. Ah well...wish me luck in purchasing the property immediately next door...that way I can put a few more acres between me and civilization.

See, here's a little photo clip of what it looked like outside my window this morning.

Yep, folks, I realize that many of you may find it hard to believe, but it's only 31F here in the woods at 9am, April 12th. We're hoping for spring, any day now. Here's a peek through my kitchen window:



And I walked outside to take a photo of a little piece of my front yard. The sun streaming through the trees almost made up for the rude dump truck awakening.



In knitting news, I have none. I have been too busy (too busy to knit? That's almost blasphemy!) doing the rest of life to participate in my second favorite indoor sport. However, dd has been needling up a storm. Herewith, a picture of the hat and socks (her first! ) she made for a friend who's due shortly.



And yes, Mike (Katy's Mike, not the unhappy brother Mike referred to in an earlier post) here is your sweater in progress. The pattern comes from Melanie Falick's Weekend Knitting and she's sped through it. No matter that Mike is stationed in Okinawa where he may not actually get to wear this for the duration of his time there (I am sure, for Katy's sake he will wear it, even if he has to stay in the a/c.) Katy assures me that it actually gets down to 45F in the winter there (I don't wear sweaters until it's in the 20sF...) and that he will indeed wear it outside. Or she will.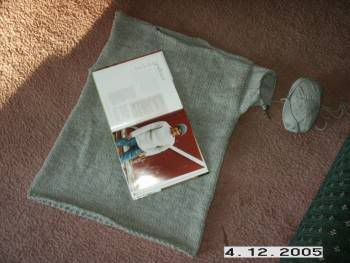 Before I go any further, I need to wish some people a very happy birthday: Atouria turned 26 yesterday (I left b'day greetings in her comments, noting duly that she is almost exactly half as old as I and should never feel old because some of us really are older than her and are still alive.) If you haven't already done so, go wish her a belated happy birthday...

And today marks the 20th birthday of the child woman who should actually have been born to me because she's so much like me, my beloved Annibellini! Happy birthday, sweetie! :::sounds of loud singing to you:::

I am frustrated with this Blogger thing. And my highspeed has issues with G**gle and anything even remotely associated with it. I have been trying to put this post together for over 4 hours (can you believe that I have squandered this much time? I should have been knitting!) (Now I know why I haven't gotten any knitting done...duh!)

And now it's too late. More to do besides knit. Wedding stuff. Transcripts. Scout stuff. Gardening stuff. Stuff stuff.

I need a nap.