Saturday Stuff
I will be posting this post on my new HPPavilion assuming I can get it out of dh's hands (note that it is his lap on which it currently rests...the wallpaper he took from one of my stash photos. Clever guy.) In all fairness, I have to say that he is making this machine do things I didn't know a computer could do...or that I even wanted it to do! We have security cameras around the property (we live in the woods, but our company designs and installs security, and we have info that needs protecting. Plus, it's really cool to spy on the kids when they're playing basketball) and I can now view all of the cameras from here. My laptop can access files in every other computer in the house, print on the printer in the office, play music, dust and do dishes (wishful thinking)...stuff I'd never think of having it do, but will probably wonder how I did without before long.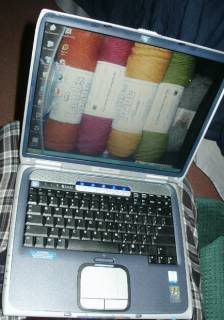 In other news, here's the first swatch of yarn dyed with my new Gaywool dyes. They're bright, easy to use, but drop even one tiny crystal and there's color everywhere! Today I dyed a skein of Knitpick's Color Your Own sock yarn in some very interesting colors. I'd love to say that it was a smashing success, but I've still got a lot to learn. Photos will be posted soon. I hope.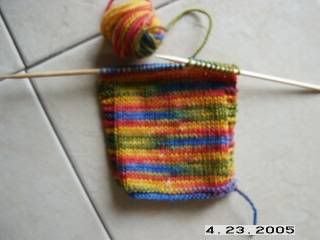 So here's what we woke up to. You can't actually see it because light snow doesn't photograph well when it's in the air, but indeed, it is snowing. And cold. There's a fire in the woodstove and the daffodils, which are just budding, are in danger of freezing. Boo. Hiss. Michigan in April. This is normal.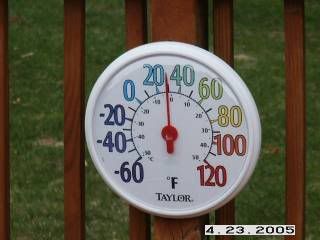 And because it's cold again, I am finishing up my lovely blue sweater. All I have left is 8 rows on the sleeves and I can put it together. I have already done a 3-needle bind-off on the shoulders (this was a neat trick too, given that I was using bound-off stitches. I picked up stitches just outside of the bindoff and put them on needles, and...well, it worked.) With any luck it'll stay cold long enough for me to finish and take the requisite headless photo without severe sweating.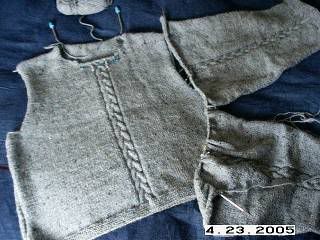 It showed up by UPS yesterday...the Summer Tweed patterns! Royal Yarns had it for less than anyone else, and they shipped it express for not too much money. Here and I'm thinkin' I've got summer knitting to do...hah! Summer will have to wait. There's snow today.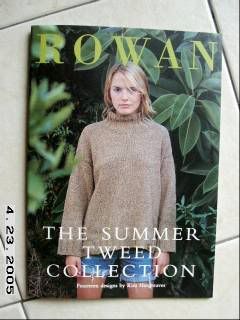 This is the odds-on favorite for a summer top. There are several other terrific ones and because I have so much yarn (I did get greedy) there is enough to make a skinny tank for Katy. She's thrilled...I'm just glad she likes the color.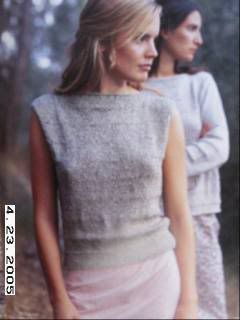 In the meantime, there are numerous baby showers, and this is what I'm doing for my friend Kellie. See, Kellie has 3 boys. And she lost a pregnancy at 5 months that almost killed her (no, really. Put her in a coma for about a week. Very scary.) And by God's grace, she is almost ready to have another baby, this time for sure a girl. Here is my knitting contribution, a raglan sweater and hat (both in process) with a little bit of fun fur, in pink pink pink.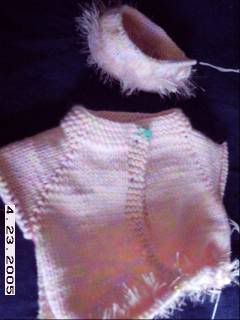 Katy, meanwhile, is on her way to a shower for her friend Christin with this crocheted blankie she finished very late the other night (seen here ready for a bath) and the hat and socks (shown in a previous post.)



I have questions awaiting me on Nancy's blog but they'll wait until tomorrow, as this post has gotten quite long and if you're still with me you're probably hoping I'll shut up soon. So I will. Until tomorrow then....