"Where, oh where has my internet gone...?"
For a multitude of reasons, including, but not limited to: Blogger, Bloglines and the sudden loss of my highspeed internet, I am at a loss to post much. Hopefully those things will all right themselves soon and I can blather more quickly out into space.

I am, however, off to the post office where I will be sending Abby Melanie Falick's Knitting in America as a token of my appreciation for her creativity in producing me a real, live, brandy-new (go look at the top of the sidebar!) button for my blog! Emy out in Singapore (go say "Hi, Emy!" to her this morning ...ummm...it's night there, but, well...just stop by, 'k?) has the Bernat book coming, and some stitchmarkers she never showed up to claim from before. And y'all must have wanted Vicki to have the rest of the books, so off they go to her (congrats on smelling so sweet, Miss Vic!)

Before I attempt to make Blogger actually post this I want to leave you with a photo of what we were doing yesterday: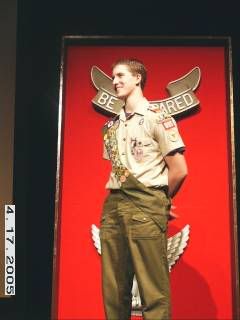 This is my son Nick, one of over 65 boys in the Lake Huron Area Council Eagle Scout graduating class of 2004, who, at the regional Court of Honor, was one of only 4 Scouts chosen to speak on the program. And his topic, fittingly, was "A Tribute to My Parents." I was not only proud and moved, I was amused, as he was the only one in the entire two hours to make everyone laugh! Great job, Nick! Your parents love you so much and are very, very proud.