Yarn: Fascination, Obsession, or Sickness...?
So what is it about yarn?

I love the look of it, the smell of it (even wet!) the touch of it. I spend hours considering my next purchase. I peruse all my catalogues trying to decide what next. Look through the back of every issue of IK to see if there's some shop I've overlooked. Hours, even in the wee ones of the night, I spend cruising online looking for my next catch. I visit yarn. Yeah, you know what I'm talking about...visiting yarn even when you have no intention/need/desire to purchase.

I have yarn guilt too. I'm sure there are things I need far more than yarn, especially when I have so much more than I can knit in any given lifetime. Yarn I own just to fondle. Yarn I own just to say I own it. Yarn I own for the delight of gazing upon it. Yarn I actually make up into something.

I've visited this subject very recently, as recently as the last "Flash Your Stash" meme. And yet I feel compelled to talk about this issue, this thing, this captivation. And here's why:

I have been buying yarn faster and more frequently than I change my oil/change my sheets/brush my teeth....

Take today, f'rinstance. I woke up late, not an unusual thing given my bedtime of 3:15am, and went to the kitchen to make coffee. On the way to the kitchen I fired up my laptop. And before I finished stirring my coffee, I had spent $67.43 on yarn and books from Knitpicks. This would not be so bad but I had just (the evening prior) received my order from KnitHappens, and am already anxiously awaiting some yarn (Silk!) I purchased at a stashbusting sale ~and~ an order from Elann. Why, oh why am I so driven?

Okay, the truth is that every single thing I bought already has a pattern and a plan to it. I only bought one small skein just for lust's sake. And I feel justified in spending a few dollars an enormous amount of money on yarn, books and patterns because we have just sold the business and because dh is now on a salary which means that soon we will have to adhere to a much stricter budget (have I justified/rationalized/excused myself sufficiently here?)

Here's the latest, my goodies from KnitHappens (notice the bag next to the yarn...I love it! It makes me feel so special! So cosmopolitan!)

New books: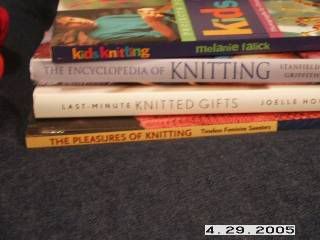 Scottie's sweater-to-be: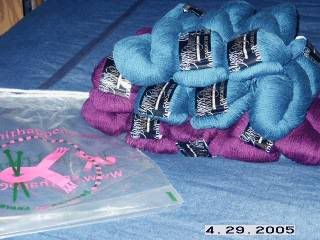 Socks for me...Lorna's Laces in 'Bittersweet'



Obsession? Fascination? or Sickness? Only my Mastercard knows for sure. And honestly, who really cares?

So bring it on! I can't wait for the next yarn to show up!