Yarn Ho!
So we spent Monday in Traverse City doing the stuff that requires a real city/town to do...see doctors, shop at major stores (Target, Sam's Club) and buy yarn in vast amounts.

Yep. Imagine that. I bought yarn. Who'd'a thunk?

We have this wonderful store called Yarn Quest (Abby, if you're coming to TC and have never been there, allow me to highly recommend this lys...) After searching diligently for baby yarn (dd found what she needed...I didn't get to photograph it b/c it's already on the needles) I came across Rowan's Summer Tweed. Now, I'm not really a Rowanette, but I am a sucker for silk, and this silk/cotton blend (the color is called Summer Berries) is wonderful to the touch and fabulous to look at. I'm waiting on a book of Rowan patterns for it now, but I may wind up making it up into something else entirely (heretical? I think not. Back, back! all you snarling Rowanettes! It's MY yarn now...) The photo color isn't quite true, but the size of the pile is...1180 yards of deliciousness, just waiting for me to finish the lovely blue sweater (I know...I've been saying that for 3 months, but actually, I'm only 8 short rows from finishing the sleeves, the shoulders are already sewn...I'm getting there just in time for the 80F weather we're having. Alpaca and wool are nice in the summer...not.)



I also snagged some of the brightest hot pink sock yarn I've ever seen. I will never lose my feet in this...I think. And thanks to the wizardry of Photoshop, the color is actually true, at least on my monitor. Hot pink. Yup. Boy howdy!



So in case that wasn't enough, I arrived home to find a package from Patternworks in the mail. This purchase was one of those "...we won't send you any more catalogues unless you make a purchase soon," types of buys. So I bought this lovely Koigu for dd's first pair of adult-sized socks (she likes making socks for babies b/c they go so quickly, but I wanted her to make a full sized pair before she leaves for Okinawa, when I won't be readily available to help...and she'd been stalling, so the Koigu's luciousness convinced her...) The photo is blurry because I was feeling that way by then. Sorry. Colorway #122.



Along with the yarn was this patternbook that holds several I'd been wanting to try.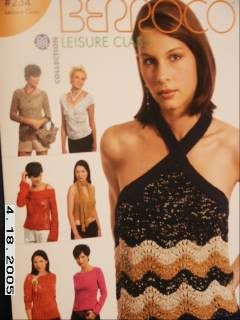 In fact, I may actually use the Rowan Summer Tweed for this:



And this pattern is definitely in my radar. It's simple, but I love the detailing on the front and the sleeves.




So there you have it, yarnfans. My day in TC was made almost complete (complete would have included stops purchases at Baa, Baa Black Sheep and Lost Arts Yarns, too...) by the acquisition of large amounts of beautiful yarn. And buttons. I forgot the buttons. Translucent little hearts for the baby raglan sweater I'm making for a friend's shower (pictures will follow when I'm done. Shower's too close for knitting comfort...)

Yarn Ho!