Books R Me ~or~ Flash Your (Book) Stash
I promised you more gratuitous bookshelf photos than is likely safe for consumption at one sitting. In the interest of...well...interest, I did not include the 900+ boxed books in the garage, anything that is stored in closets, on garage workbenches, in the bathroom, in vehicles, boxed for the garagesale next month, on coffee/end tables, or stashed behind my knitting chair. Keep in mind that I live in the north, in a poorly insulated manufactured house, and books make darn fine insulation.

Here, for your gawking pleasure, I present, in no particular order:

Scott's shelf, next to his side of the bed. Contains lots and lots of WWII books, especially firsthand and autobiographical accounts, computer and work related stuff, and lots of books about Jeeps...old Jeeps.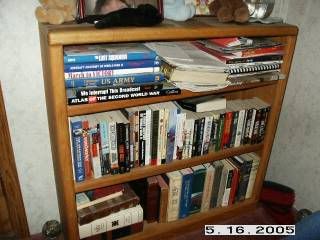 This is the shelf in the hall. It contains much of the resource material we have collected over 15 years of homeschooling. It's recently undergone a purge (hence the open spots) where those books have migrated to the garagesale box in the garage. Also contains an unreasonably large collection of Baby Blues comic anthologies, courtesy of Katy, who thinks it's the most amusing stuff, and that I remind her of Wanda. A lot.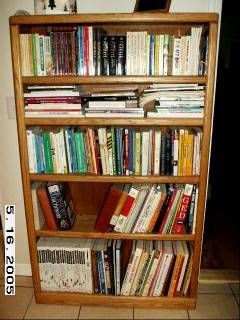 The current curriculum shelf. Contains all of Nick's school work as well as the GED stuff for the volunteer tutoring I do with the girls at KenQuest House. The boxes on the bottom contain all manner of craft stuff, kept now only for the occasional small, bored visitor. The basket on top holds markers, glue sticks, calculators, pencils, scissors, pens, drafting tools, hole punch, and a few unidentifiable things that I'd rather toss than touch.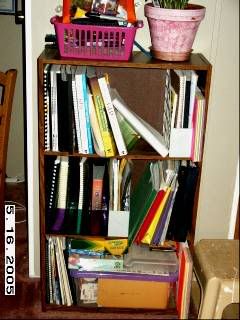 This is Nick's desk shelf. Current reading, old passions (horses) and Scout stuff.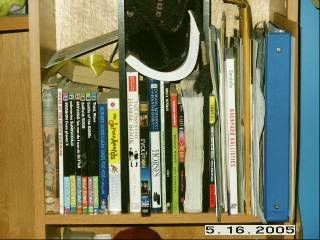 The shelf on my side of the bed. This is my most personal library (things I don't lend) and all of my knitting books and magazines. The knitting stuff is taking over the shelves. Note in immediate proximity, the tower of stash. (The bookshelf is 5' tall.) This extends further than the photo shows and almost all the way to the end of my beloved's patience as it's threatening to take over the bedroom. (He's still fairly good humored about it.) I say, build me an addition. More room, more yarn!



My third bedroom shelf. Contains all my gardening books, homeopathic/herbal/naturopathic books. The Bible on tape and CD. DK travelogues. Assorted other books on tape/CD. On top, all my gardening catalogs, crosstitch projects and boombox.



Katy's bookshelf. She tends to read in series, evidently.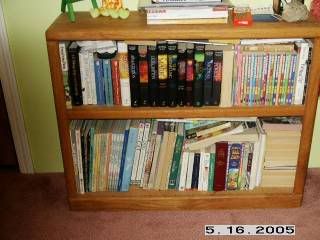 The cookbook shelf, purged two years ago, gave away over 90 cookbooks. Now also holds various phonebooks, none of which seem to be there when we need them. Curious.



The shelf immediately outside my bedroom door. Semi-blocks the door. A fire marshall's nightmare. Contains (one) encyclopedia (donated the other three sets to the library) and a host of the classics as well as my gradschool texts and undergrad major texts. My second favorite shelf.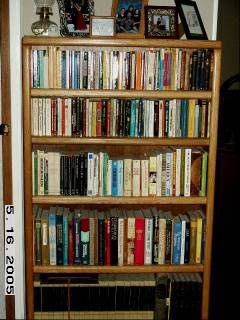 So that's the tour. Now, the meme:

How many books in my house? Nary a clue. You could count. Don't forget the ones in the garage and elsewhere as noted.

The last book I bought? Ummm...I'm sure it was a knitting book, as I tend to theme buy and that's the current theme. I did pick up two old Kaffe Fassett books at the thrift shop...

The last books I read? My Bible. Last thing I read: All about HTML. Gripping reading.

Five books that I reread often or that mean a lot to me? My Bible. Madeleine L'Engle's Many Waters. Gene Edwards' Divine Romance. Balch's Prescription for Nutritional Healing. My Bible.

Who am I going to pass this along to? I'm not. Pick up the ball and run with it if you feel like it. I'm usually the last in line with these memes, so there's probably no one left in the whole bloggiverse who hasn't done this.

Tomorrow: A faltering start on my own domain.