Dishing' dirt...
This is about the front of my yard. The dirt road goes on for 1.6 miles before joining a paved road. We live in the woods. Literally. I love it.

But like many women, I eventually tire of the current condition of my surroundings and desire to effect some 'prettying up' changes. In the case of the yard, this requires huge amounts of imported dirt (where we live all the dirt is actually sand. To grow anything requires the addition of real growing medium.) So recently, after having the 40+ yards of limestone laid down for the drive, we decided to do a little redecorating out by the mailbox.

Before he broke his hand, Nick took a huge pile of landscape timber and boxed the area in for me. Impressively, he mitered all the angles. The plan was to fill and cover the existing vegetation. Mainly this area is just scrub underbrush, bracken (springing up in the next several weeks or so...) choke cherry bushes and pine needles. I want grass and flowers. This is more of a major undertaking than I originally anticipated. Enter, 10 yards of sifted topsoil.


Now, I know about moving topsoil. In the past two years we reclaimed a half acre of woods up by the house and it's now lawn, bushes and flowers. Beautiful end result, but hard, backbreaking work. I moved 25 yards of dirt...twice...mostly by myself. And because of Nick's broken hand, I find myself in that same place this year. Katy did come help for a while but got sidetracked by the rest of her life. This is the second half of the pile...

Some of our handiwork...before the mosquitoes chased us in...



And my helper. This is Riley. He rolled in the dirt a lot. He's just beginning to discover the great out-of-doors and every little skittering leaf causes him to jump. He's lots of fun to watch, but not so much fun to work with, as he kept getting right in the way of the dirt I was tossing with my shovel.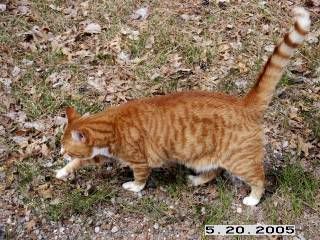 Tonight there will be some knitting pictures. I figured out that my prob with the Branching Out Scarf was the yarn I was using. I switched over to Lana Gatto wool in a pale green and have completed three repeats without a hitch. Curious. And it looks more realistic in green than pink...

Off to see the Wizard...later!