Fun with felt ~or~ Pammi knits too fast for me...
My sister Pam came to Michigan with the express intent of learning to knit. She had been contemplating this for quite some time. So when it came to teaching her the ways of the sticks, it was so easy I'm still not sure that she hadn't already been knitting for years.

After a brief stint with a pair of 10.5 straights and some leftover merino, we decided to attack our first project: a felted Keyhole Bag. I worked this pattern right along with Pam so that I could teach her each technique casting on, increases, decreases, binding off, etc.) as it came along.

Suffice it to say that I have never had to knit so fast. She positively flew through the pattern.

Here's Pam, hard at work binding off in preparation for weaving in the ends: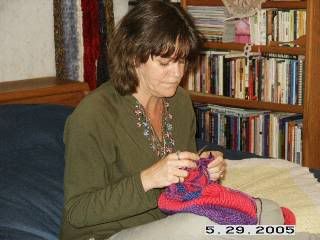 And here she is enjoying an alternative use for the project.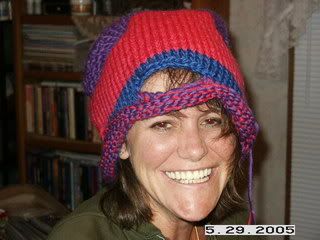 The bag, prefelting. Dimensions: 12" across, 8" to buttonhole opening. Followed the above directions (less than) to the letter. Used Lamb's Pride Bulky single strand (she was having too much trouble carrying both bulky strands) in purple, Cascade 220 doubled in pink, Lamb's Pride Worsted in blue. Size 15 Addis.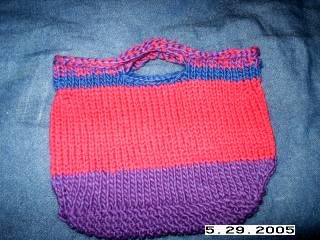 Fresh from felting. In need of a shave... Dimnensions: 9.5" by 5".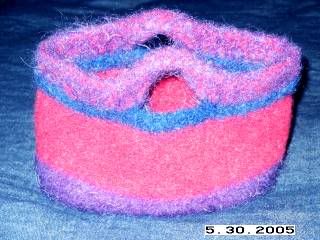 My prefelted offering. All Lamb's Pride Worsted, doubled.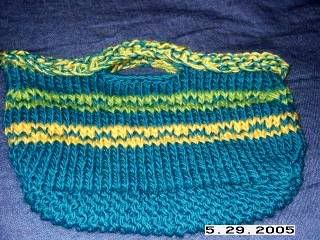 Fresh from the bath. Apparently I bound off much more loosely than Pam as my bag is sort of...baggy at the top. Much tugging did not resolve this, so I will content myself that this is the way it should be. It is unique...just like every other bag.



In preparation for the next felting project, I offer you...Knitpicks dyeityourself aran weight in Pammi's choice of colors. She will be knitting this into some sort of felted bag. I think it looks (if memory serves) like a Tequila Sunrise. It's eyeblinkingly bright. She loves it and I love her and I am so glad she got to come visit. Her husband, my youngest brother Robin, is home dealing with all three boys and doing a wonderful job of it. (Or he's doing a wonderful job of covering up...either way, Pam is getting to relax and knit. What a guy!)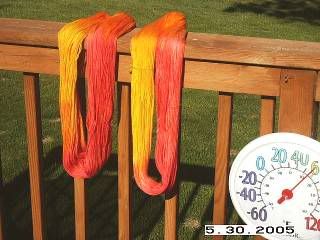 Shortly we'll be off to canoe down the AuSable River today. I wonder if I can take my knitting?

Have a blessed day!