Is this really a knitting blog?
It has come to been brought to my attention been rudely pointed out that there has been no actual knitting content in this blog for some indeterminate amount of time.

I ought to apologize. Sorry.

So, do I have actual knitting content? Well, ummm....sure! Picture time.

Here's a lovely little swatch of Knitpick's new Shine. I have no idea what sort of summer lovely I will make out of this stuff, but it's sure nice to work with. It's pima cotton and modal (tencel.) The modal seems to make the cotton yarn lighter in weight without losing any of its softness. The color is Candy but it comes in a vast array of single and multicolors.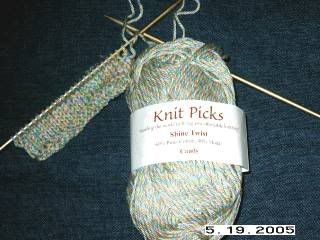 Here is where I am finally learning to make toe-up socks. After several starts, I finally figured out how to do it. I'm hooked. I love this toe. I am, however, anxious about making heels...backwards. Don't know how that works, but I'm following the pattern. This is sock 1.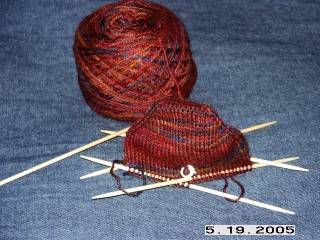 This is more than 1/2 of the shawl I'm making for the lady who's doing the music for Katy's wedding. It's Fiesta's LaBoheme in Rainforest. This stuff is wonderful to work with except for the difference in stretch between the rayon strand and the mohair strand. Sometimes the rayon gets waaaay ahead of the mohair, which has less stretch. Even so, I love it. Poised above are several sparkly yarns which will become part of the fringe (I'm big on heavy fringe.) This is the only one of my projects that has a time limit on it, so it should get priority. As if.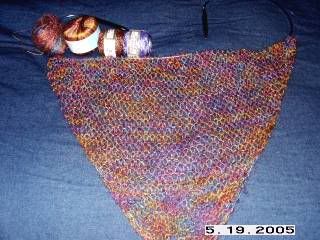 Here is the Knitpick's dyeityourself Aran weight yarn. I'm making a hat. I love this mindless circular knitting. This is what I took to the hospital with me on Tuesday night when I had to go to the Emergency Room with Nick (who broke his hand and I promised to not tell the whole world the stupid way he did it.)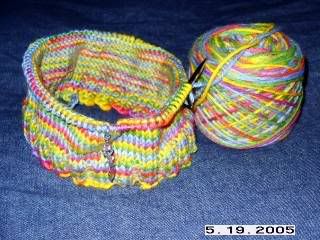 Here is try #2 at the Branching Out Scarf. This is only my second attempt at lace. I love it, but I think I have to be in a sealed room with no distractions as I tend to get lost easily. Twenty five stitches. How hard could that be? Well, I've ripped it out four times. I will master this. I hope. It's being knit in pink because I gave up on the laceweight alpaca/silk yarn and this was the only sockweight yarn I had in a solid color. Weird, huh? Pink leaves...



Katy requested that I notify the blogging world of her accomplishments as well. She has been working on baby hats in Baby Cashmerino (a particular fetish of hers, as you can see below.) She's also making excellent progress on her own sweater, knit in Knitpick's Elegance in the color 'Grass'.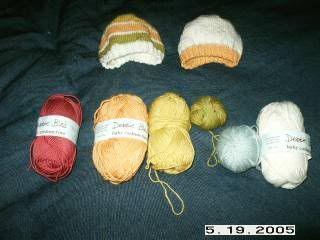 And that's about it, sportsfans. I've actually been out moving 10 yards of dirt (a yard of this dirt weighs 2600# for the curious...) and I hurt too much to even knit at this point. But there has been knitting and will again be...

And then, there's my new website...