I've been RAOK'd!
In the middle of all this excitement, I arrived home to find a box stuffed into my mailbox. (I think it's probably a fortuitous thing that I live way back on a dirt road, because the box was left protruding from the open mailbox. It wouldn't have still been there if the mailbox was out by the main road, like some folks' are.)

The box contained some wonderful things: Do-it-yourself socks (yarn and needles!) and an amazingly adorable and useful notecard (under that picture is the pattern for the poncho the little girl is wearing!) This lovely giftie is from none other than the most wonderful Rox of Fearless Knitter fame. I had to keep her bookmarked and click off to her blog every day to see if she had posted (and that's so unnecessary when there's Bloglines out there...our time is precious, right? We want our posting updates in one place so we have more time for knitting and less time spent linking, right? Right.) So I subscribed to her blog. But she wasn't subscribed herself. I sent her over there and she put a button on her blog, and voila, people came! She has fifteen subscribers! So go, subscribe to her blog and tell her Susie sent you.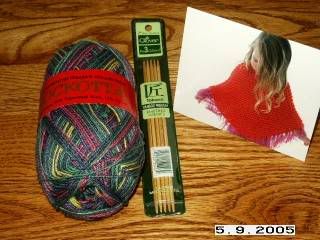 And just why is she Fearless? Well, she's hosting the Secret Pal 5! Perhaps fearless is not the word she would use. Thank you so much, Rox. I'm gonna learn how to knit toe-up socks with this. I will post progress (assuming I am able to figure it out...) Blessings to you!