May 3rd and I awoke to...
...snow. Now, I love the stuff as much as anyone else who's voluntarily living in northern Michigan, but there seems to be something off kilter this year. What the heck is going on? Three of the last three mornings we have awakened to snow on the ground. Some folks will tell you that it's normal, but the old-timers around here will tell you "it jest ain't right." I wonder if this guy has some answers (and is not simply unnecessarily paranoid...) This stuff fascinates me (when I'm not knitting.)

In knitting news, we're planning our trip to Kalamazoo to see Stephanie on Friday. What to wear. What to take. What to knit. What to take as a giftie. How long it'll take to get there. How many lys' can we hit along the way (and how early do we need to start out in order to do that and still be on time...?)

So here's what's knittin' today...Annie's new hat (fer cryin' in da mud! It's still winter out here!) Annie saw the sock yarn I dyed and loved the color, so, having some Lamb's Pride in Natural, she and I followed protocol and made the yarn bright with Gaywool dyes. She, a committed non-hat wearer, has promised to wear this hat when it's cold (even in May?)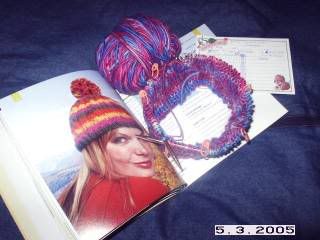 Here is the fabulous silk I now own. See the lovely pattern in the bag with it? Discerning eyes will know that I went to Bonne Marie's site and bought me the Scoop du Jour. It's a perfect fit and I can't wait to start it.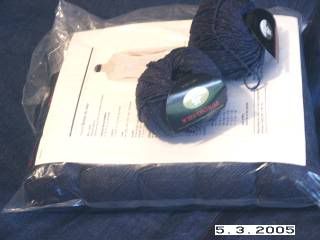 And here, in an effort to persuade myself that I will never need to purchase any more sock yarn ever again throughout all eternity, a photo of (most) of my sock yarn stash. I am embarrassed and (secretly) thrilled to have so much sock yarn. I mean, you never know when they'll stop making it...



I've been trying to round up as many of the Michigan knitbloggers as I can to see if we can meet up for a tour of Threadbear on the way down, or possibly some dinner first. If you read this and are interested in either or both, drop me a line (see sidebar for email addy) or leave me a comment here...especially if you're someone who actually knows your way around Lansing and/or K'zoo. I've never been either place, so this should be amusing. (I hope the Onstar people are equally amused when I get desperately lost...)

Stay warm...


Edited in later:

Note to self and anyone else I may have confused: The Yarn Harlot will be in Kalamazoo on Friday, May 6th. Friday. Friday. Remember that. Friday.