Moving Mountains, Pretty Plant *Mini-Contest*
By now you would probably be almost as tired of the dirt thing as I am...well, maybe not quite as tired because you're not moving it and I am...but I wanted to show off today's accomplishment.

The pile after 1.5 hour's work, when Katy joined me.



See, it's smaller. I've we've been working hard. The area we're filling is approximately 35' x 30'. Roughly 4-6" deep.



Two hours and much pain and agony later...ta da! A surface ready for grass seed and plants! Currently I am sitting on a heating pad, having taken four ibuprofens and some lovely prescription pain relief and am waiting on same to make me feel like I can walk again. I'm sore, but happy it's done. Just days ago it looked exactly like the land immediately behind it. Now it's prettier.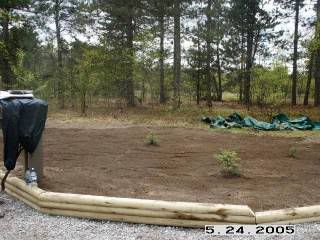 In knitting news, I finally finished the lovely blue sweater and have attached the (too long) sleeves to it. At this point, I'm just gonna roll them up. I have procrastinated on this sweater for like forever. It's a simple project. And I have completed no less than 15 FO's since I started this. I think the prob was that I knit it in pieces instead of in the round (I wanted the 'experience' of seaming. Ha. Never again.) and that required purling every other row x 4 major size pieces (95-125 stitches on size 7s) x many, many rows. I'll admit it. I'm lazy. I don't mind purling, I'm just not as fast as with knitting. So anyway, here it is with all but the side seam sewn. Next time you see this sweater will be in the fall when it's cool enough to model it.



Sharon (and several others) mentioned to me how curious it was that the pink Branching Out scarf became the pale green Branching Out scarf with nary an explanation. It's magic. Suffice it to say. Seven repeats. I'm feeling optimistic about this lace thing.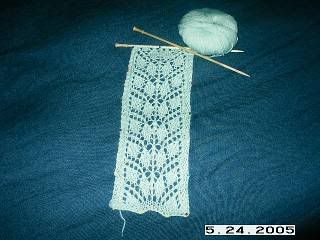 I'm swatching for several things, but nothing's really caught my fancy. I had put this yarn away for the Sophie bag quite some time ago. I haven't done any felting in a while and this is nice, mindless knitting (I love it that you can make mistakes and no one ever knows...felting is cool like that.) I suspect this will work up quickly. Paton's Merino and Cascade's Quattro. I like a heavier felt...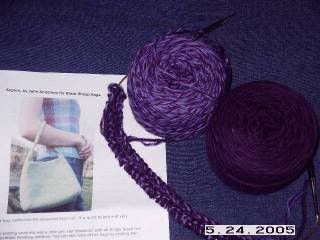 And now, for something totally different....

This lovely flowering plant is native to northern Michigan. In fact, there is a lot of it on my property. In fact, I have had to pull some of it out during the course of moving all that dirt. Be the first to correctly identify it (email me) and I'll send you off the sock yarn I just dyed and a coupla pretty stitch markers I've been playing around with.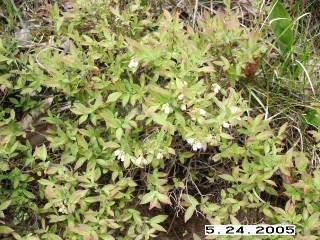 And that's all the news that fits today...