"...put another dime in the jukebox, baby..."
Dd Katy posted this quiz on her live journal. I had to laugh. She's grown up on classical and Veggie Tales and Christian music, so her score was around 34%...a "Rock Wannabe." What stranged me out was how well I scored. Until recently, when I started listening to the oldies stations again, I hadn't listened to much other than classical or Christian since about 1981, when I became a Christian. Not at all curiously, I can remember all the lyrics and NONE of the group names. Go click on the link and check it out...


The Veteran
You scored 84%!
You've picked up the majority of the classic rock basics. You probably have a classic rock collection and can sing along with most of the songs on your local radio station. This is not the highest score, but it is arguably the best: that subtle combination of impressive knowledge and not being a pretentious geek.
My test tracked 1 variable How you compared to other people your age and gender:
| | |
| --- | --- |
| | You scored higher than 33% on notes |

Extra points if you can tell me the name of the song and the group that sang it from my post title....
In other, further from home news, we hit Saginaw yesterday. Katy had to meet with Greg Largent, the music pastor, to pick out the processional, etc. Here are a coupla photos of what the church/organ looks like. This pipe organ has a replacement value of $1.48M USD. BIG bucks. I got to play it ....momentarily. Chopsticks sounds strange on a pipe organ. Eerie...ethereal. Chopsticks. Go figure.

Proof that I was there...that's my purse atop the very expensive pipe organ.



And there are the pipes...but only a few actually show. Greg , the man who plays this magnificent instrument, (amazingly well, I must add,) climbed up a ladder and opened the door behind these pipes to show us the rest of the pipes: 3500+ in total, all hand made. This makes me wonder how they got it so cheaply...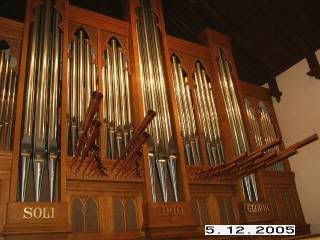 This is the altar of the church where Mike (dfsil) (dear FUTURE son-in-law) was raised, First Presbyterian of Saginaw. This is where, in just a few short weeks, Katy and Mike will be taking their vows and sharing their first kiss as man and wife. I'm getting teary just thinking about it. Any knit bloggers out there who'd like to come to the wedding and think you'd actually make it, send me your snail mail addy and I'll send you an invite. Really. I'd like not to be the only one knitting during the wedding.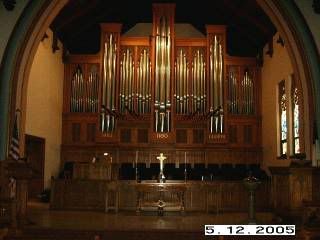 And in other news, Katy has done the happy FO dance! Here, in the requisite no-head photo, she is modeling the sweater she made for Mike (who is substantially larger than she, obviously.) This is from Melanie Falick's

Weekend Knitting

and she used WoolEase Chunky on size 13 circs. Amazing how fast it worked up. And she did a fabulous job. She says that she hopes Mike likes it, but that it's comfy enough that she would be willing to roll up the cuffs and wear it herself.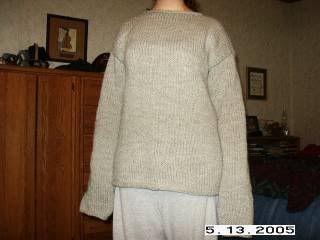 I'd like to leave you with a photo that epitomizes the day we've had around here: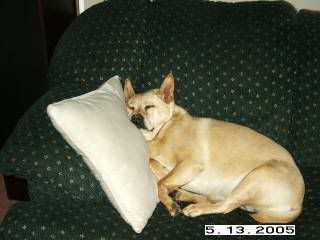 It almost seems like Saturday.