Saturday stuff
New sock yarn dyed in black with green, orange and pink accents. I seem to dye in really bright colors, and it occurred to me that some people (guys, most likely) would not be up for wearing really bright, colorful stuff. I went and bought some black Rit dye. I like the way it came out and will be using more of it.



Three repeats of the Branching Out Scarf. Pinned it out so it would show. I'm pleased with it and will actually attempt to finish it.



The three amigas. Annie, Beth-y and Katy have known each other for almost seven years. Annie got married last June. Katy is getting married in July. Beth-y is graduating from high school shortly. They were all homeschooled for a long time and had lots of time to be best buddies. Both are in Katy's wedding. They went cruising to Traverse City today to get malled. I love to hear them laugh together. Even though things change, some things will remain: they love one another like sisters (which none has) and they manage to wind up laughing every time they get together. The wedding will be fun.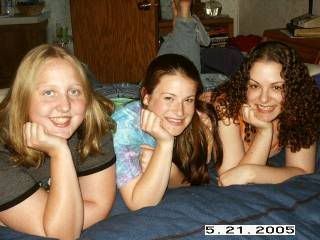 Scott put the big window a/c in the living room today, a concession that it may actually become summer. We just blew by spring...

Have a lovely, lazy, blessed Sunday!