So here are the photos already. LOTS of photos. Dialup connections, prepare to stall.
Before I made it to Kalamazoo, I met Sharon at Threadbear in Lansing. What a lovely, gracious woman! I got lost (get a sign out by the street, guys!) riding up and down the same street before I finally stopped and asked a local. Sharon kindly waited for more than an hour after I said I'd be there. Not everybody would do that for someone they'd never met. You're wonderful, Sharon! And what a cool thing to finally meet another knitblogger!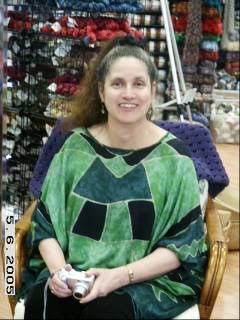 I took almost twenty photos of the yarn in the shop, and not one was a duplicate. There's just that much yarn in there. Dd Kate says that they should advertise as "The Mecca of the Knitting World." Rob told me that I absolutely could not take his photo, but I snapped him anyway. I won't post it though, as I really do want to be welcome there again.

This is a sample that Sharon knit up. She helped the guys when they first arrived and is a regular. How wonderful...kinda like Cheers...Threadbear...where everybody knows your name...and favorite yarn.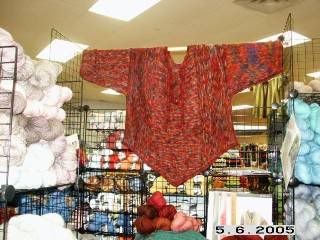 One more pic of the shop before we move on. If you've never been here, it's a must. Any trip to Michigan would be a waste without a visit to this yarn shop. Here's Kate sittin' and knittin' while I wandered the store, yarnstruck. I will only add that my purchases did not climb into the 3-digit range...that is all.



So we arrived in Kalamazoo, checked in at our hotel, had only enough time to get changed and ran out. As soon as we walked in the door of the Athena Book Shop, I started snapping pictures. Here's 1/2 of the crowd.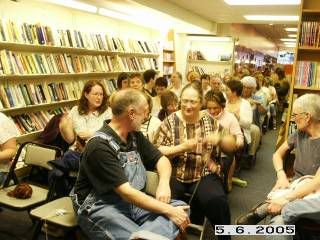 Here's the other half. I don't know who this woman is, but why isn't she smiling? She's in the front row! (Edit 5/8: she doesn't like having her picture taken. I'm sorry, dear lady. Had I known, I would've edited you out. Please accept my apology.)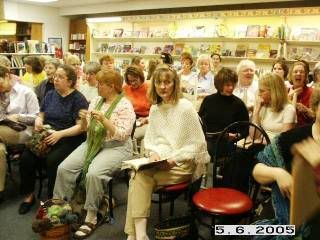 The lady with the green yarn around her neck is Amy of Jehovah Jireh Farms, Someday she will teach me to spin. I don't know her but I like her already. Go visit...she sells exotics and rovings and handspun.

Here's whatcha really came to see...Stephanie. And Susan Ramsey, aka Rams (of the comments). Susan teaches fiber arts at the Kalamazoo Institute of Art and also works at the Athena Book Shop. And she's a FOS (friend of Stephanie.) Awesome woman. I wanna be like her when I grow up.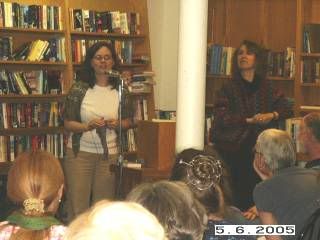 I lifted my camera to snap this picture as she was snapping a picture of the crowd. Her comment: "How cool! We're blogging each other!"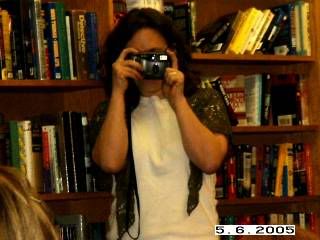 Later, I told her that I was gonna beat her to the blog because I had wifi in my hotel room (see last post for how that worked out..not.) She told me that was unlikely as she had her laptop set up in the back room at the book store and she was going to have a go at it immediately. Go look. As of this moment she has not posted. OTOH, she's at the Maryland Sheepy-Festivalish Thingie having fun with knitters, bloggers, livestock and yarn and stuff.

When Stephanie was done speaking, everybody lined up to have their books signed. I don't do lines very well, so I found a seat and waited to be last. Whilst I was sitting there knitting, I noticed the stuff that people in the line were working on. So I took pictures.

This is Toni. She's working on a baby blanket/knit quilt, using triangles. Yes, this looks like fabric quilting, but I assure you, it's knitted. This is more amazing than the picture conveys. She designed this and I think she's very talented.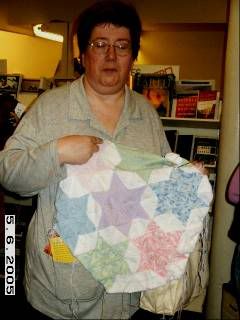 This is Elizabeth. She's knitting socks for (Civil War? Ren Faire?) re-enactments. I love the knitting pouch she's wearing. Another handy and talented knitter. And she attempted to aid and abet me in my stash acquisition by giving me the names and addresses of every yarn shop in western Michigan. I was duly appreciative...my MasterCard was not. C'est la vie. Thanks, Elizabeth!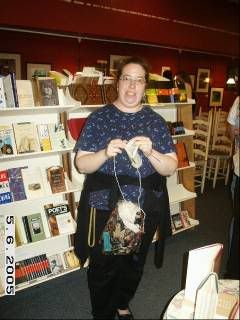 This is Carina. Yes, she knitted that sweater. Gorgeous, eh? And she's opening a yarn shop in Battle Creek very soon. Email her regarding opening (riverwalkyarns@charter.net), then go visit (and buy!) when you're in the area.
She helped me to not get lost going back to my hotel. She's really smart and she knows a lot. I wish her great success in her woolish endeavor.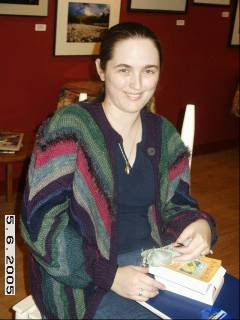 This is Tracy and that is her booga bag. She, a responsible knitter, followed the pattern. It turned out beautifully. I, on the other hand (to add to the list of my inconsistencies and assorted peccadilloes) have a problem following patterns. My booga bag does NOT look like that. I'll post it some day when the blog is once again about my knitting.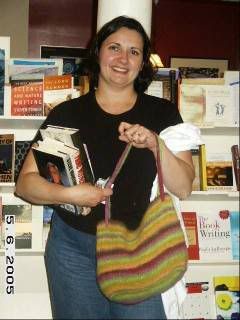 This is Megan, and her honey, Guy. Guy is a really brave man who gets my award for being the most wonderful husband in the world. What's that on his head? Why, a Knitting Fryup, of course!



Erin, Cara, and Stephanie. Cara won (no actual prize, but a great deal of astonishment...) for being the person who travelled furthest. She came all the way from Iowa.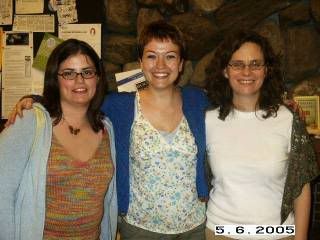 Lynne, (and...who is this she's with? I should know, though I don't think we were introduced...) with whom I met up at Threadbear...unexpectedly! We were planning to meet for dinner in K'zoo, but that fell through because I was...late. As usual. I think I probably need to blog about ADHD and time perception some day...



Here is the lovely Janella. Although the picture is fuzzy, you can make out that she is holding a) an exquisite felted bag of her own making and b) a fair isled sock with a fantastic heel. Awesome work.



I actually took this picture of Nancy before everything started but I just found it. She was wearing an amazing scarf with beads...no, they looked like jewels! on the fringes. A kit, she said. Magic, more likely, I think. She was making more magic with her needles too, knitting lace.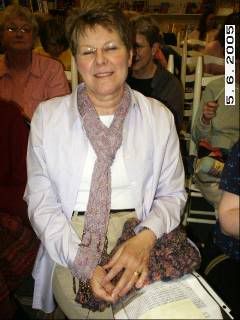 And finally, the benefit of being last...I got to sit and chat (albeit for but a moment) with the one and only Yarn Harlot. She was tired. This is new stuff to her, leaving home, bouncing from state to state (country to country!) not knowing what time zone she's in, still a little unsure of all the adulation. She's real people.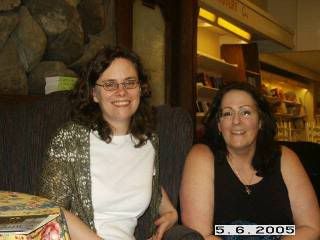 Stephanie, this picture makes you look neither drunk nor angry. Really, you photograph better than you think. Honest. And those pants...just like SJP. Honest.

And then she was off to the Maryland thingie where so many people did not get to go and are sad and bitter and disillusioned and...and...

Thanks for coming to Michigan, Stephanie. Thanks for setting it up, Rams...and to all the people I took pictures of whom I didn't credit...forgive me. I'm just one, lone knitblogger.

Tomorrow: what I brought home with me ~and~ what was waiting for me when I got home. Yarn p*rn of the worst sort.