WTH happened to yesterday's post?
So I had this great post completely done and I punched the 'publish' button and several weird things happened.

First, I have to mention that the last time I had weird Blogger things happen I went looking into changing hosts. Naturally, Blogger straightened right up and worked well. For several weeks.

So I have this great post (and let me assure you that it was great!) (Okay...it was better than average...) and I hit the button to send it. I open my blog in another tab. What awaits me? Well, part of my post was there...in what looked like GERMAN (complete with the umlauts and stuff) but most of it was missing. And half the sidebar was gone too. How on earth did this happen? I think I have some idea about the missing sidebar (which was actually still in my template, so I just hit reload and it appeared,) but the weird language change and missing half of the post?

I wound up deleting the whole thing in disgust. Reflecting on the matter, I probably should have left it up just as a point of interest/curiousity. I'm sure I would have gotten some verryy interesting comments...

A propos of nothing, here's what I was doing at 11:30pm the other night: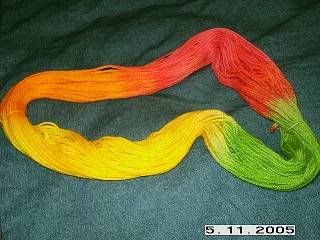 This is none other than Knitpick's Dye It Yourself worsted weight. Two hundred twenty yards of softness that accept dye like a bank accepts deposits. I have absolutely no idea what I'm going to do with this yet, but at $2.99USD/hank, I could afford to just admire it! I used the Wilton Food colors with this one. I have lots of colors in the Wilton, and I wanted a rose, which I don't have in the Gaywool dyes.

The beauty shot: in natural light: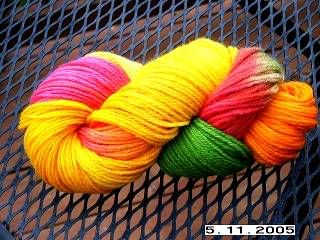 Here's another thing I dyed the yarn for. The pattern is the Beanie from S'n'B Nation. The yarn is Lamb's Pride Worsted in Natural, dyed with Gaywool dyes. This is for Annie...see, sweetie! I finished it just in time for summer!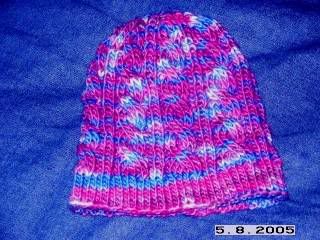 I'm going to go see if I can recover yesterday's post (the one you lost could always have been a Pulitzer Prize winner, right?) which hopefully will not have morphed into Swahili or something else....

Later.