I've been RAOK'd! TWICE!!!
Yesterday was fun. We took Pammi to Traverse City (our largest, closest 'city') to go shopping. We hit JoAnn's, the local high-end resale shop, (having a sale!) my very favorite lys Yarn Quest, the mall...lots of wonderful shopping...ending with Border's for coffee and a perusal of their knitting books. On the way home I got a call from Nick (who had no desire to go shopping with the womenfolk) telling me that there were three packages for me in the mail and could he open them. I opined that there was probably nothing of interest to him in them and to keep his grubby mitts off them wait until I got home to open them.

When we got home from Traverse City I found that my books had arrived from Amazon: Instant Expert...a gift for Katy...A Handspindle Treasury and Spin It for me (note that I do *not* own a drop spindle...yet.) This was good enough happiness for me when I remembered that Nick had mentioned three packages. It took some doing to find the rest of the mail, but when I did, I was overwhelmed!

My very first RAOKs! (Not my very first...ummm...giftie...that honor goes to Rox who giftied me because I turned her on to Bloglines and was her first subscriber, so I got a 'first subscriber' giftie! Thanx Rox!)

In no particular order....this arrived from Atouria, some very special treats for relaxing (I'm not sure why people keep telling me I need to relax. Do I seem hyper? Do I? Well, do I?) Ahem. Sorry.

The wonderful and vegan Atouria sent me fabulous handmade (her hands!) vegan, cruelty free soaps (Who knew vegan smelled so good?) a clever and encouraging card, and this adorable and very useful (already used!) birch wood massager. My darling, you are so thoughtful and sweet! Thank you from the bottom of my heart.



Then on the same day, out of the blue I received this from Jenn, who raoked my world with this...a postcard from her corner of the world, wherein she proffered this lovely stuff...a handcarved wooden 'guardian angel' (Lord knows I need one many, many of those...) a skein of Knitpicks dyeityourself (this has devolved to one word in my dyeing world...) sock yarn (what color....colors?!?) and three of the loveliest and most innovative stitchmarkers I've ever seen. In fact, I've never seen any like this.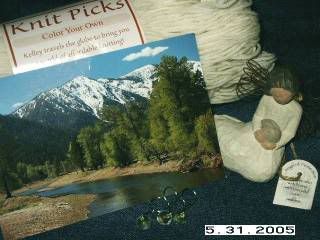 Take a closer look...see? Aren't they totally cool? Now I wanna know how she made em'! Bless you my dear, for your thoughtfulness. You brought joy into my day.


You ladies so totally made my day. The kindness and generosity of knitters never fails to amaze me. Thank you both so very much.

My sister Pammi has knitted me to a frazzle. The yarn I dyed? Here it is, pre-felted. She completed this in under 36 hours, learning to add carry-along yarns and make I-cord along the way.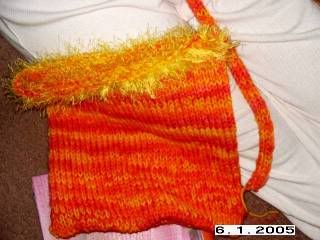 She woke up this morning and was knitting on this before she even got coffee. Can we say obsessed? Note the copy of Instant Expert sitting beside her (the book I'm sending to Okinawa with Katy...) I'm beginning to wonder if she coulda written it.



And before we even got dressed, said bag was in the washer doing its felting thing. Nicely. Katy says this looks like something Seussian...a Cat in the Hat gone wrong. I disagree. This is the first time I've ever felted something I dyed and I think it's splendid. Not to mention the amazing (and fast!) job Pam did making it.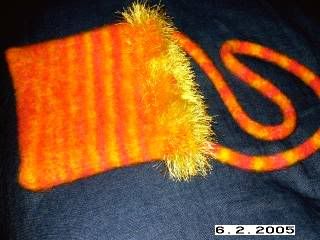 And lastly, in the 'day late/dollar short' category, Monday was Katy's 19th birthday. My family and Scott's family, neither of which can be counted on to acknowledge birthdays, true to form, sent no cards. There were no gifts to speak of. The only cards she got were from her soon-to-be mil and grandmil. In my defense, I did buy her a 4 cd Frank Sinatra collection, but she understands that there is a Wedding in 37 days and that's where all the money is headed.

She was very mature about the whole thing except for the part where we were riding home from TC and she turned to me and said, "This birthday s*cked. Mike's on the other side of the world, Dad's working downstate, none of my friends can come over, no one in my whole family bothered to send a card or call...not even Grandpa Joe. It s*cks."

I've known about stuff like that in my life too. I will say no more lest I become bitter...

...so that's why the RAOKs just blow me away.

Fortunately, we were able to pull together a quick, very late evening, impromptu gathering of her friends. When we got home from TC Annie (and hubby Ryan) and Bethy came over and made birthday fun and silliness until they were all exhausted and goofy. Annie, a natural blonde who seldom wears makeup, always raids my makeup stash when she comes over and this night was no different save for the fact that Beth-y wanted in on the deal too. she found some very, very red lip glaze and proceeded to 'anoint' everyone with her imprint. This photo shows her looking vixenish, something we all thought was out of character for her, but now are having second thoughts about...here's a shot of Katy and her posse, taken at about 11:45pm on Monday night.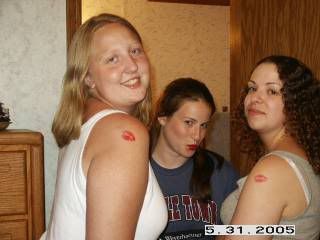 These girls are three of the most beautiful, funny, brilliant young women I've ever had the privilege of knowing. Katy has been the delight of my heart since the moment I knew she was there inside me. Annie and Beth-y have caused me to shoot more liquids and foodstuffs through my nose than is probably healthy just because they are so incredibly delightfully (hysterically! frighteningly!) funny. They are beloved friends and sisters and I hope they will always remain so regardless of distance.

Happy Birthday, my Katy. How will I get through the next one with you so very far away? Let me hold you close while I still can.