Rain, rain...and the happy results...but first, a rant.
We live in the woods. (Did I mention that we closed on the 1.5 acres next to us on Saturday? If I did, forgive me. It just thrills me to know that no one can build within 270' of me on either side. Yay!) In our woods are small acreages which are own by...for lack of a better word...downstaters. These are people who come up during the summer to camp or fish or just get away from the city. This would certainly be okay save for the fact that these people are bent on burning down the woods (the place of my primary (and only) residence) by starting fires they have no control over. In fact, in the last 3 years we (my family, just neighbors, not volunteer firemen) have responded to 2 out-of-control fires wherein the firebug had no a) hose, b) bucket of water, or in one case, c) access to water to control said fire. Lunatics.

After a disturbing lack of snow this winter, and less rain this spring, we found ourselves short by over half of our annual accumulated snow/rain to date. And school's out. And the loonies are arriving in droves. This always makes me nervous because of their often cavalier attitudes. (I suppose it's easy to be cavalier when your own primary residence is not in jeopardy of torching.)

So it was with great delight that we welcomed the deluge yesterday afternoon. Beautiful rain, turning my brown grass greenish, making all the perennial beds smile (I'm sure of it!) and washing down the pine dust, leaving pools of yellow-ringed water everywhere. Dropping the temperature from an unseasonable 89 to 72F. Glorious. Or not.

And then the power went out. Four hours of 105% humidity. No coffee. No a/c. No computer.

Nick fired up the generator (you've gotta have one of these babies if you live out here) and I turned on a fan, made coffee, and settled in to knit, sweat, drink my coffee, sweat and wait for the power to, please, God, come back on. And sweat. Did I mention how well I handle heat and humidity? I'm almost 52. Heck, I make my own heat and humidity.

Happy for the rain, displeased about this powerless turn of events. Grateful that no one could burn down the woods in the rainstorm. Sweaty and miserable. Dichotomy. I'm told that no one has ever died from perspiration. I would like to contest this.

So today I went outside to photograph God's bounty be completely eaten by huge mosquitoes and black flies while taking pictures. Herewith, the place I live and what's blooming in my garden: a short pictograph.

This is what you see when you pull into my driveway. This is where Katy and I moved the huge pile of dirt. There's lots of grass seed there now, and hopefully there will be grass soon. I have some annuals to plant out here and a few perennials as well...just waiting until it's cool enough to breathe outside again...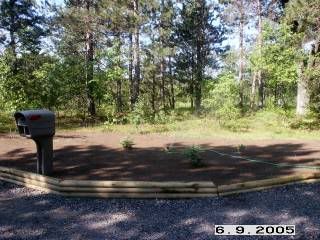 As you pull up the drive this is what you can see to your right (I didn't snap the left side...more of the same...)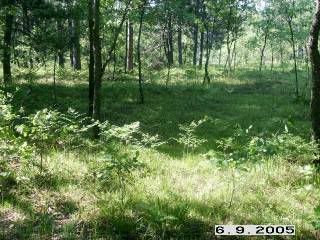 ...and further up the drive (293', more or less...)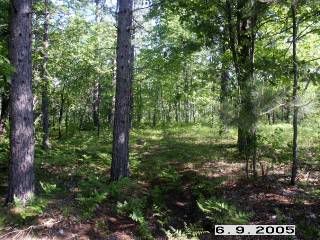 ...standing on the driveway apron looking back into the yard. We have much more woods than yard, though when we moved in 6.5 years ago there was a 20'x50' strip of grass in front...and nothing else but weeds, sand, and woods. Now we have a yard.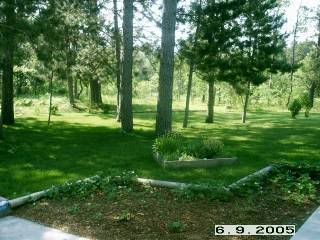 Can you see why it makes me crazy when people come up here and are careless with fire? Scary!

This is a closeup of the front bed in the picture directly above. It started out as annuals. I became a perennial convert quickly when I realized that they came back every year. (Duh! Some green thumb, eh? ) The strawberry bed is visible in both pictures too. Berries love sand, so they're planted directly in the soil. Everything else has to be in a raised bed with imported dirt (real dirt...) and humus and manure. Quality stuff. This bed has monarda, foxglove, echinacea, heuchera (I don't remember everyone's formal name...) German Catchfly and Fleabane.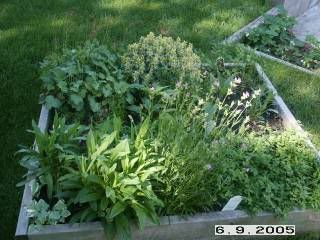 The bed directly across the front of the yard. The pretty blue flowers in the middle are Katy's Jacob's Ladder. I have aquilegia and lupine and dianthus, Spike Speedwell and yarrow in this bed too...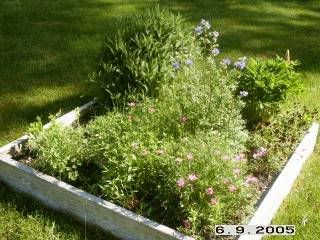 This bed is the newest and it's in the backyard. It gets lots more sun and I have not been really good about making sure the stuff I plant can take all that sun, ergo, I have repeatedly yanked frizzled, dried plant corpses and replanted something else in hopes of success. There's a lamium in here (pink), coreopsis, heuchera (white) and the thrift (see below.)There are also two huge daisy installations that come back each year in spite of the fact that the seed packet promised no more than one season.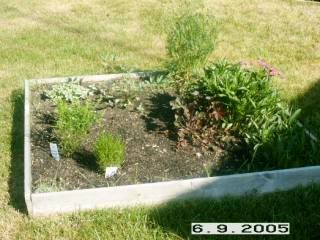 I just figured out how to make pictures even smaller...this is cool...unless like me, you have to shove your glasses up on your forehead and press your nose up to the monitor to see them...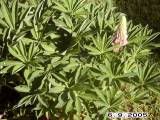 Lupine on the left, thrift on the right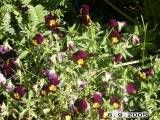 Johnny jump-ups (violas) and the yellow lamium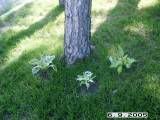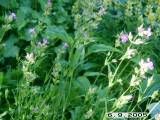 One of six trees sporting hosta aprons, German catchfly

So now you sorta know where I live. Feel free to come visit.

My drop spindle arrived today and I am completely incompetent but totally enraptured. Knitting content tomorrow...promise.