Shawl we dance...?
So it was like 2:15am when I got finished (please do not ask what I was doing awake at that time. Neither shall we speak of the fact that Katy was there as well...) but finished I am. Ta da. I was at a Boy Scouts Committee meeting when I bound this baby off. Came home. Got a little dinner. Chatted for a bit. Congratulated myself on completing the shawl sooner than the day of the wedding (my usual M.O.) Realized that I had to fringe the danged thing...fringeing that would mean hours of bending awkwardly over the bed and pulling many pieces of assorted yarns through small holes. Yep. I sure love to fringe.

But I absolutely love the way a heavy fringe swings around. And this shawl is long...longer than mine, and I had more fringe-y stuff to use...so I got started around 11:30pm. Cut the yarn into appropriate lengths. Here's the setup...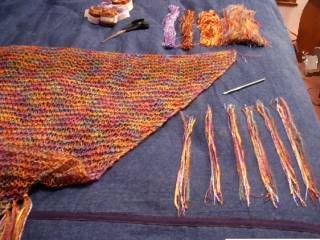 No sooner had I begun the task when my able assistant showed up to lighten the work lay on the work so as to make things much easier for me. Thanks, Riley. There'll be a little extra in your food bowl on Friday...



And in the end (around 2:25am) out lovely spokes/shawl model gives us the picture on the finishedness.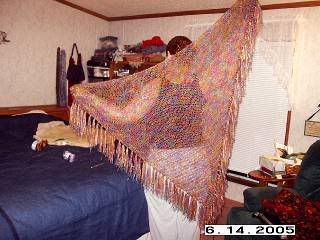 Someone woke me up at 5:15am with a totally unwarranted phone call. Unable to sleep, I made coffee and took the shawl out to be photographed in natural light (and a soft drizzle. Great. God's doing my blocking now...thanks, Lord!) However, I wish this had turned out better. Even the outside light shot cannot convey the sparkle and fringe-ishness.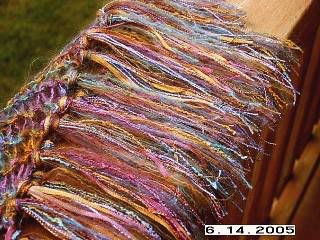 Shawl ala deck. The beauty shot.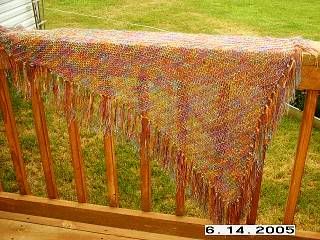 And as if finishing the shawl wasn't enough, in beween knotting fringe I decided to show this silky combed top alpaca who's boss...and spun a whole bunch (I'm learning...)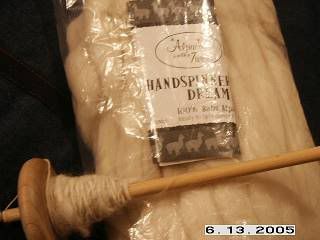 I'll leave you with a picture of my favorite potted posies. I had quite a time trying to figure out what would work together from the motley assortment I purchased. I didn't want the traditional geraniums with spikes type of stuff. So here's something a little different...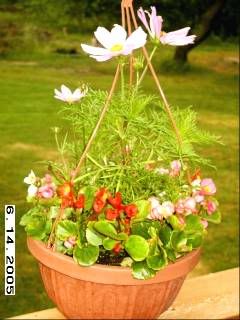 Cosmos and wax begonias. I could start a trend, no?

Thanks for suffering through all this shawl strutting. There are so many accomplished knitters who casually pose their incredible gossamer lace works of art and pass them off as a little something they worked on while the kids took their piano lessons. Maybe so. For me, this shawl really is just a newbie thing; perhaps it'll be the gateway to greater, lacier things for me down the road. Thanks for letting me show off. I just love y'all!