So where's the knitting?
It's been hot and sticky (icky) and occasionally stormy, and because it's June, this is the Time To Get Things Planted in northern Michigan. As much as I love the beauty of the woods and enjoy my horticultural accomplishments, on days like these I wish only to be in front of the a/c, knitting away.

Before I show you what (pitifully little) knitting I've been working on, I have to post an update on the front of the yard where we have Moved Large Amounts Of Dirt and Spread Grass Seed in Copious Quantities (which has yet to sprout) and where now, there are Plants.

Note the presence of Plants. All the stuff on the ground around the plants is grass seed...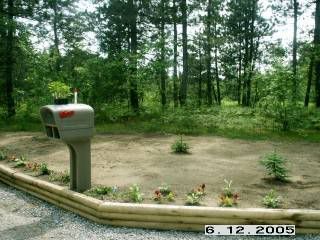 These are the Plants...Celosia and Hostas (when she was young, Katy used to call them 'hostages'. It stuck. I was very embarrassed when I said that in front of the Home Depot kid/clerk. He just looked at me weirdly.)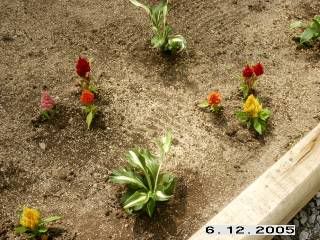 And more...the Vincas, also known as Periwinkle, which I'm hoping will spread. (It's supposed to.)



All this rain and icky weather makes me miserable, but it seems to have a dramatically different effect on the plant world...here's the lupine last pictured 4 days ago (see last post for photo):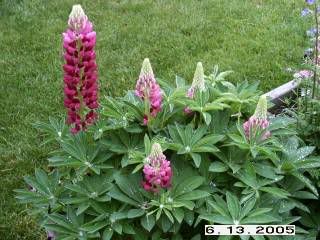 So. The knitting. Well, in my defence, I have to call your attention to the fact that my current UFOs are ensconsed in my recent FOs...Branching Out (now at a remarkable 9 repeats) is residing in the Button Bag.



The Fiesta Yarns shawl which is for the Lady Who Is Doing The Music For Katy's Wedding (it's begining to sound like a title...or a mantra...) is currently hanging out in Sophie. In 5 more rows and the fringeing, this will be an FO, and not a moment too soon. The wedding is in like, 26 days...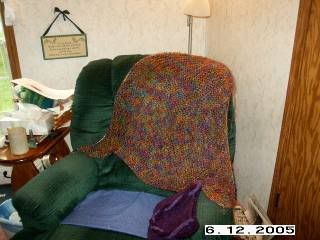 And there is some new stuff. Here's a pattern I've been looking at for quite some time. In typical Susie fashion, I do not have the correct yarn (not even something in the near-same yardage) yet I am attempting this tank.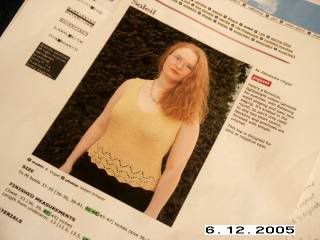 Remember this? It's Cascade's Fun, an inappropriately named yarn if I ever saw one. It's not actually plied, rather it's 4 strands that sort of pull along together...most of the time. Not easy to knit with. Naturally, I'm gonna give it a shot.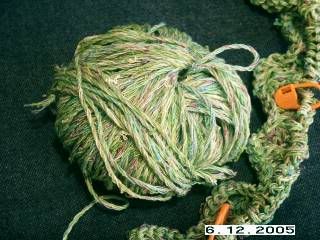 The first round of the lace. As Stephanie says, it always looks like a wadded up mess until the magic of the blocking. I hope this is true.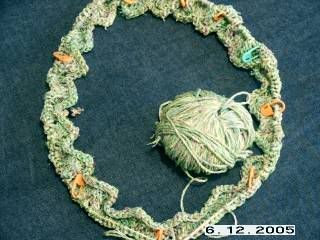 And finally, here is what I've been spending all my time on. I am still totally incompetent. I cannot draft and spin together. Draft. Spin. Draft. Figure out what I did wrong. Join. Spin. Read the instructions. Draft. Toss down in frustration. Spin. Draft...you get the picture. I simply cannot wait until our local fiber fests in August so I can have someone show me how to do this properly.


Even so, note the presence of just a few yards of single spun yarn. It took a reaaallllly long time. I was totally irritated and frustrated.

And I'm hooked.