Yarn and other things...
As promised, some yarnish photos from our travels of the past few days.

This is Katy and her Koigu sock. They are still asleep although it is almost 11am. Sleep Katy. Sleep sock.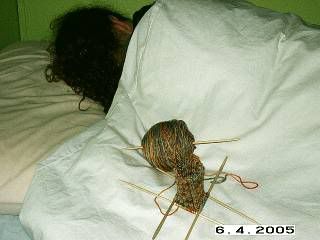 Katy's sleepy sock...her very first. She loves Koigu and it's working up fast. Except when it's asleep.



The trip to JoAnn's in TC netted me enough Cotton Ease for a summer tank.



Later, we stopped by Yarn Quest.

Remember my beautiful Summer Tweed? I centerpull balled this skein and started to swatch it. I had trouble knitting with this stuff. It just seemed hard to work with. Am I the only one who feels this way? Any way, I returned it and with the credit I purchased....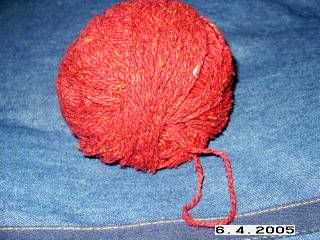 ..this! Three huge skeins of Interlacement's Oregon. I am so excited about working with this stuff that fall can't come soon enough for me.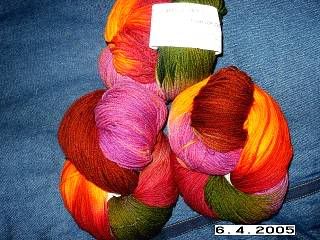 An update on the Sophie bag. I am currently working on this because this was one of the felting things I started when Pammi was here. Everything else is on hold. But there will be no more felting for a while after this. I think.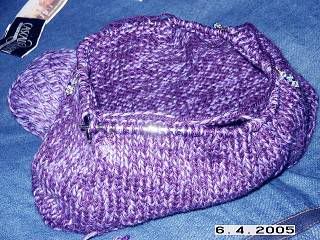 On to the yarn I bought at Threadbear:

Some fabulous Lorna's Shepherd worsted. This color is like summer sky and clouds. (I don't think that's what they call it, but they should. In fact, I think they should hire me to think up new and whimsical yet appropriate names for their yarn colorways.)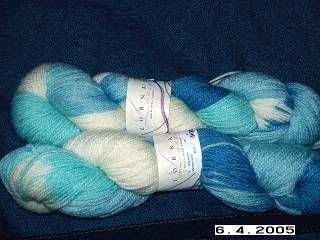 The huge pile of Cascade's Fun, an odd name for this cotton/viscose blend yarn. (See above. I'm sure I could do better at naming this stuff.)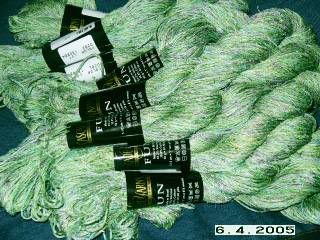 The start of the swatch. There's a tank pattern waiting for me to finish the Sophie bag.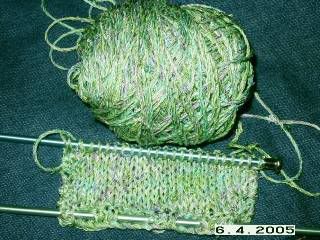 And Laurie, (of the anonymous postings,) this is the alpaca top I purchased and wrote about. I could not resist, as it is softer than any yarn I have ever fondled. Yet when I started looking into drop spindle 101, I discovered that alpaca is too slippery a fiber for beginners. (I don't think I'll let that stop me, but I'll start out on the merino top that's coming with my new spindle...)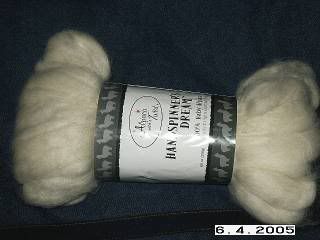 Finally. FINALLY! There are blossoms on our strawberry plants. Which leads me...out the door and away from my knitting, to work in the yard before the rain comes.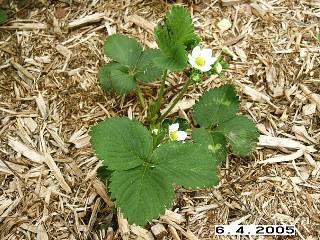 Have a lovely and blessed weekend!